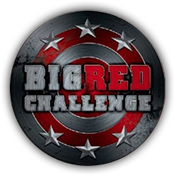 Big Red Challenge is a military-inspired 7K obstacle course race series designed to push you to your limits and give you a feel for the challenges members of the military encounter on a day to day basis. Doesn't matter if you run, walk, skip obstacles, cheer, volunteer, or watch!
Join us for our 7th Annual Big Red Challenge Obstacle Course Race on
June 13, 2020 to celebrate our veterans and remember the fallen!
REGISTRATION IS NOW OPEN!
Where: The Railyard – Lincoln, NE
The Big Red Challenge is a 501(c)(3) non-profit organization that supports veterans in the transition to civilian life through Challenge, Service, and Community.
How do we accomplish our mission?
CHALLENGE: The Big Red Challenge Obstacle Course Race creates an opportunity for veterans and civilians to come together and challenge themselves.
SERVICE: In order to provide service to veterans, proceeds from the BRC Obstacle Course Race will go to partner organizations that provide direct services that align with BRC's key pillars.
COMMUNITY: The race has created a community of runners, veterans, volunteers, veteran organizations and business partners. Challenge and service create the strongest bonds and our community is proof.
"On the other side of challenge lies the greatest version of ourselves."
NEW THIS YEAR!
How do you honor those who gave the ultimate sacrifice?
This is our Challenge. This is our Story. By honoring Veteran's service we discovered our pillars of purpose. Challenge, Service and Community.
The Memorial Walk is about bringing our pillars of purpose together in honor of Nebraska's fallen. We walk to remember them, we walk to keep their stories alive, and we walk so that we may never forget the price of the freedom we enjoy every day. The Memorial Walk is about getting out and taking action in a way that empowers the Nebraska community to never forget those who gave all of their tomorrows for all of our todays. So lace up your shoes, read their stories, join their families, and walk in honor of their sacrifice!
"Their Lives they held their country's trust; They kept its faith; They died its heroes" -Hartley Burr Alexander
The Memorial Walk is a one mile walk for all ages.
Have a kiddo that wants to join in the fun too? Register for the Lil Red Challenge! The Lil Red Challenge is a short run for kids ages 5-11 with a few obstacles to tackle along the way. Parents may run alongside their kid for free. No strollers on the course please.
Want to get involved but not interested in running? We need 200+ volunteers to make the race day a success! Whether it is packing swag bags, manning packet pick-up, guiding runners along the course or other clandestine activities, we need your help! Thanks for helping us honor our veterans and servicemembers!
If you have any questions, want to get on the volunteer list, or have a large group that would like to get involved, please email Connie Belt at cbelt@bigredchallenge.com or volunteer@bigredchallenge.com with the subject line BRC 2020 Volunteer.
Technique: Athletes must traverse over the high barricades and under [...]
Technique: Athletes must pick up 2 ammo cans and carry [...]
Thank You to Our Sponsors