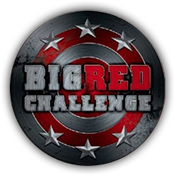 Big Red Challenge is a military-inspired 7K obstacle course race series designed to push you to your limits and give you a feel for the challenges members of the military encounter on a day to day basis. Doesn't matter if you run, walk, skip obstacles, cheer, volunteer, or watch!
Where: The Railyard – Lincoln, NE
The Big Red Challenge is a 501(c)(3) non-profit organization that supports veterans in the transition to civilian life through Challenge, Service, and Community.
How do we accomplish our mission?
CHALLENGE: The Big Red Challenge Obstacle Course Race creates an opportunity for veterans and civilians to come together and challenge themselves.
SERVICE: In order to provide service to veterans, proceeds from the BRC Obstacle Course Race will go to partner organizations that provide direct services that align with BRC's key pillars.
COMMUNITY: The race has created a community of runners, veterans, volunteers, veteran organizations and business partners. Challenge and service create the strongest bonds and our community is proof.