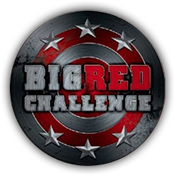 Same Mission. New Distance.
Big Red Challenge is a 7K obstacle course race series designed by the Marine Corps League – Cornhusker Detachment 370 and Ironhide Construction, Inc to push you to your limits and give you a feel for the challenges members of the military encounter on a day-to-day basis. Doesn't matter if you walk, run, skip obstacles, volunteer, cheer, or watch!
Join us for our 6th Annual Big Red Challenge Obstacle Course Race on
June 8, 2019 to celebrate our veterans and remember the fallen!
REGISTER by May 18th to be guaranteed a runner shirt!
Use code HONOR when registering to take $10 off your registration!
Excludes Veterans and Lil Red Challenge pricing.
Veterans and Active Duty can register for $25!
Where: The Railyard – Lincoln, NE
The Big Red Challenge is a 501(c)(3) non-profit organization that supports veterans in the transition to civilian life through Challenge, Service, and Community.
How do we accomplish our mission?
CHALLENGE: The Big Red Challenge Obstacle Course Race creates an opportunity for veterans and civilians to come together and challenge themselves.
SERVICE: In order to provide service to veterans, proceeds from the BRC Obstacle Course Race will go to partner organizations that provide direct services that align with BRC's key pillars.
COMMUNITY: The race has created a community of runners, veterans, volunteers, veteran organizations and business partners. Challenge and service create the strongest bonds and our community is proof.
"On the other side of challenge lies the greatest version of ourselves."
Have a kiddo that wants to join in the fun too? Register for the Lil Red Challenge! The Lil Red Challenge is a short run for kids ages 5-11 with a few obstacles to tackle along the way. Parents may run alongside their kid for free. No strollers on the course please
The course is built by VFW Post 3606 and set up by the VFW and Scout Troop 142.
The Big Red Challenge 2019 Expo will take place on June 8, 2019 in the Railyard from 7:00am-1pm!
If your business is interested in having a booth, email bigredchallenge@gmail.com
*Note: Veteran Organizations can host a booth space for free! We are at capacity.
Want to get involved but not interested in running? We need 200+ volunteers to make the race day a success! Whether it is packing swag bags, manning packet pick-up, guiding runners along the course or other clandestine activities, we need your help! Thanks for helping us honor our veterans and servicemembers!
If you have any questions, want to get on the volunteer list, or have a large group that would like to get involved, please email Connie Belt at cbelt@bigredchallenge.com or volunteer@bigredchallenge.com with the subject line BRC 2019 Volunteer.
Thank You to Our Sponsors