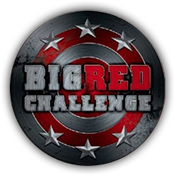 CHALLENGE: The Big Red Challenge Obstacle Course Race creates an opportunity for veterans and civilians to come together and challenge themselves.

When is the race? Our 7th Annual Big Red Challenge will take place on June 13, 2020 in the Railyard (350 Canopy St, Lincoln, NE 68508)!
Start times:
Lil Red Challenge: 8:00am
Big Red Challenge (7K Elite): 9:10am
Big Red Challenge (7K Non-Competitive): 9:20am
1 Mile Memorial Walk will follow the last heat of the Big Red Challenge

What do I get as a runner? Great question! All runners will get a t-shirt and Dog Tags as a finisher medal. *Note: Runners must register by May 22nd to be guaranteed a shirt.
One of the dog tags will have a couple of the names of Fallen Heroes with ties to Nebraska on it. If you have the name of a fallen veteran, email the name to us at social@bigredchallenge.com and we will select a handful of names at random to be featured on the dog tags. Please submit the following information by December 31, 2019: Person's name with rank, age, where they are from, branch of service, KIA date, a high resolution photo, and a short bio of them (approximately a paragraph long).

What should Veterans & Active Duty bring to packet pick-up? Please bring your Military ID, VA ID or DD-214 to packet pick-up. Thank you for your service!
*Note: Discount only applies to the service member.

Can children run in the 7K? Yes they can as long as his/her parent signs the waiver.

What is the Lil Red Challenge? For those young kids ages 5-11 years old who want to run but not the 7K, there will be a short kids race (roughly a mile) called the Lil Red Challenge with a couple of obstacles to conquer along the way. Cost is $20 and the kiddos will get a dog tag finisher medal and a shirt. *Note: Runners must register by May 22nd to be guaranteed a shirt.
*Parents may run alongside their kid(s) for free. No strollers on the course please. Kids will meet on race day at the start line in the Railyard at 7:45am to get lined up for the race.

Is there a time limit to complete the 7K Elite Course? Yes, all 7K Elite Runners who wish to be eligible for prizes must cross the finish line by 11:30am and complete all the obstacles. There is no time limit per obstacle just as long as you finish by 11:30am.
*Awards will be announced at noon in the Railyard.

What are the prizes for the 7K Elite Overall Winners? (Prizes are for both male and female)
1st place: $200, Big Red Challenge Shield, and entry into next race
2nd place: $100, and entry into next race
3rd place: $50, and entry into next race
**No Division Winners.

What are the obstacles and how many are there? The route will have approximately 20 unique obstacles. Below are obstacles that may be included in the race. Some new obstacles may be added.

Can I skip obstacles? If you are running non-competitively, yes you can skip obstacles. However, if you are running in the 7K Elite Division, you must complete all of the obstacles to be eligible for the prizes. Runners in the 7K Elite division will be given a wristband (males will get one wristband and females will get two) at packet pick-up to wear during the race. Failure to complete an obstacle will result in cutting of the wristband and the runner will be out of the running for prizes.
*Note: Female Elite runners will have two wristbands with the ability to fail one obstacle and still be in the running for prizes, however, the first female finishing all obstacles within the time cap will be the winner, even if a female finishes before her but failed a single obstacle.

Are the races timed? The races will not be officially timed. We suggest self-timing if you wish to know your time.
Will there be water along the course? Yep, there will be water stations on the course and water at the finish line. Water is being provided by Pepsi.
Omaha Packet Pick-up: Thursday, June 11, 2020 from Noon-6pm at Fleet Feet Omaha (17660 Wright St, Omaha, NE 68130)
Lincoln Packet Pick-up: Friday, June 12, 2020 from Noon-6pm at Fleet Feet Lincoln (7701 Pioneers Blvd Ste 2, Lincoln, NE 68506)
Runners can also pick up their packets on race day (June 13, 2020) starting at 7:00am in the Railyard (Canopy St, Lincoln, NE).
*Note: Runners are encouraged to pick up their packets before race day and may pick up packets for other runners. Please bring a photocopy of the person(s) ID.
Thank you to Fleet Feet for hosting our packet pick-ups! Make sure to check them out at: http://www.fleetfeetlincoln.com

When does the Expo start? The Expo will take place on June 13, 2020 in the Railyard and will open at 7:00am and go until 2pm. 

*Note: Veteran Organizations can host a booth space for free! Email bigredchallenge@gmail.com if your group is interested! Limited Space Available.
Where should I park? There are several parking garages around the area as well as street/lot parking. Below you will find a few garage options:
Red 1 Garage – 555 "R" Street
Green 2 Garage – 530 "P" Street
Blue 3 Garage – 535 "P" Street
See map here.
*All entry fees are final and non-refundable. The race will take place rain or shine (unless lightning or other severe weather). Should the race have to be cancelled due to weather or other unforeseen circumstances, race entries will not be refunded or applied to a future race and will be considered a donation. Thank you for your understanding.

This race is to support and honor veterans so wear red, white and blue, bring a flag, ruck sack, boot & uts, gas mask, or just a warrior spirit and have fun! Look forward to seeing you at the challenge! By embracing the challenge, you are making a difference. A portion of the net proceeds will go towards local veteran organizations.